Run toward
your Goliaths™
Discover how to fight with faith to overcome the giants
that stop your personal and professional success
GET YOUR COPY TODAY
Run toward
your Goliaths™
Discover how to fight with faith to overcome the giants
that stop your personal and professional success
GET YOUR COPY TODAY
Run Toward Your GoliathsTM
provides services in the field of biblical study.
"I can do all things through Him who strengthens me." 
"I have said these things to you, that in me you may have peace. In the world, you will have tribulation.  But take heart; I have overcome the world." 

 
"Casting all your anxieties on Him, because He cares for you."
1 Peter 5:7
Dr. Eli Jones bridges academia and business. He is an academic administrator, entrepreneur, professor, business leader, corporate board member, author, and professional speaker. He is a Professor of Marketing and Lowry and Peggy Mays Eminent Scholar at his alma mater, Texas A&M University. He served as a business dean for three flagship business schools, including Dean of Mays Business School for six years (from July 1, 2015 to May 31, 2021). He currently serves on the funds boards of Invesco, the corporate board of Insperity, and he is on the regional board of First Financial Bank. He served for eight years on the International Academy of Marketing Science Board of Governors, and three years on the global board of the Association to Advance Collegiate Schools of Business (AACSB) and on the Innovation Committee. Jones was inducted into The PhD Project Hall of Fame for his sustained, unwavering commitment to achieving significant encouragement and impact within the network of minority business doctoral students and faculty. He was also selected by his academic peers internationally for the American Marketing Association's Sales Special Interest Group's 2016 Lifetime Achievement Award for making a significant impact on sales education and research.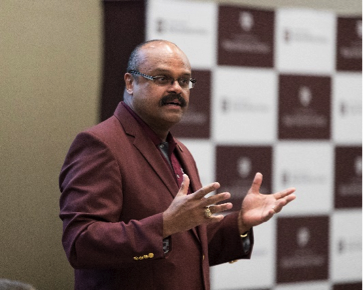 Invite Eli to Speak
Topics: Leadership, Sales, Strategy, Sales Management, Fighting with Faith, Run Toward Your GoliathsTM